T-Safe file protection system is designed to help content publishers to distribute editable files which needs to be protected against unauthorized copying.




Based on hardware key, T-Safe offers strong protection to videos, pictures, documents, as well as project files.
Now T-Safe system is opening to test for FREE, please contact sales@senselock for free samples.

User Group Management & Time Management


Strong Protection Based on Hardware Key


Available for Any Kinds of File Formats

Ideal Choice for Team Work


Protect File Stored Either in Local or in Cloud
How T-Safe Works
T-Safe Software has two distinct modules. One is suitablefor vendors who wants to distribute files and other is suitable for end users(or customer of vendors) to allow them to read, edit or use the files.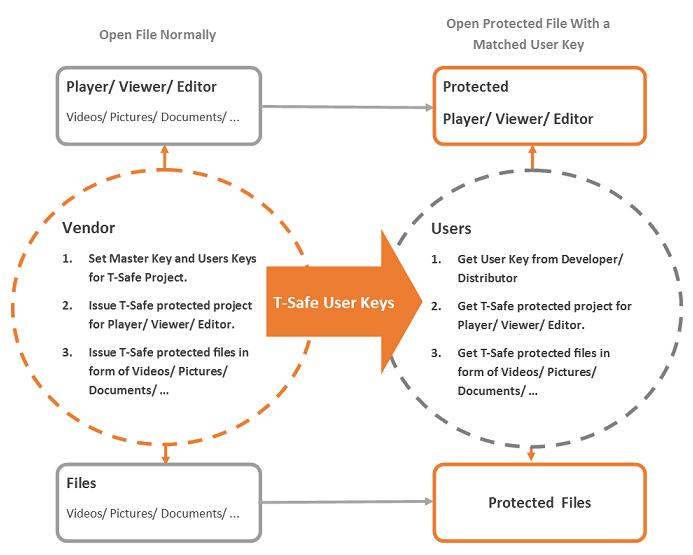 The Vendor (who wants to distribute files) uses vendor toolsto protect (encrypt) files and distribute it along with user tools or projectaccess tools.

The end user or customer who is authorized to uses the filesuses supplied T-Safe Dongle and end user software modules to use the files.
Vendor tools and project access tools are designed specificto software applications. The encrypted files can be open in that softwareapplication only. For example, files encrypted for Edius can be viewed only inEdius with user specific dongle only.
Supported File Types
Videos VLC Player.

Documents Word 2010, Excel 2010, PowerPoint/ PowerPoint Viewer 2010, Adobe PDF.

Image and Video Project Edius, Pinnacle Studio, Adobe Premiere pro, Adobe After Effects, Adobe PhotoShop,

Adobe Illustrator, Borris Red [Boris Fx or Effects], Bluff Titler.
Above are widely-used file formates, for solutions to files in other formats, please contact sales@senselock.com.

Supported Systems

Windows XP, Windows 7, Windows 8.
Watch all the training videos at Youtube!
T-Safe Edius Project File Protection Trainning

T-Safe Video File Protection Trainning

T-Safe Video File Protection With 165 Module License in One Package
T-Safe Protection for Excel with Virtual Timer

T-Safe Protection for PDF with Virtual Timer